Guilin Travel Guide
Guilin Travel Advisor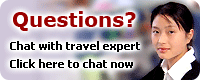 Skype: topchinatravel
Tel: 86-773-2828314
Ask a Question

Guilin Golf Clubs
There are some professional golf clubs in Guilin. Among them, Merryland Golf Club and Landscape Golf Club are two recommended ones. Golf satirists can spend their golf vacation in these two resorts. Top Guilin Travel now lists these two golf courses for your reference.
Famous Golf Clubs in Guilin
Guilin Landscape Golf Club is located in the famous Yaoshan Nature Scenic Zone, only 6 kilometers from Guilin City. The club is surrounded by green mountains and liquid lakes. It will be a very wonderful experience to play golf there! The whole club covers an land area of 12,000,000 square meters and ...
Guilin Merryland Golf Club is located in Zhiling Road in Xingan County, only 40-minitue drive from Guilin downtown. The club is the largest golf club in Guangxi Zhuang Autonomous Region, covering an area of more than 1,000,000 square meters. It is also the most distinctive American-style hilly land ...