21 Days Panorama View of China
Destination: Beijing-Xian-Lhasa-Chongqing-Yangtze River Cruise-Yichang-Shanghai-Suzhou-Hangzhou-Guilin-Hong Kong
Duration: 21 Days
Tour Code: TGT-CH-Highlight-08
Tour Type:Private Tour
Price from: US$ 4388 P/P
Summary:
Rich in cultural relics and natural resources, wanna travel through China to appreciate its most popular landscapes, to discover its inner spirit in one time? So come with TCT, this 21 days China Panorama Tour will match your needs. From inner land to coastal city, from royal Beijing to bustling HK, from cultural Xian, Tibet to picturesque Hangzhou, Suzhou and Guilin, plus a cruise on the mighty Yangtze River...all around China. During the journey, you can enjoy the brilliant Palaces, magnificent City Walls, Holy Monasteries and crystal clear streams; you can touch the common folk's life by a Hutong visiting; you can walk along the river Bund, etc. Do not forget to bring your camera, to record that wonderful time.
Itinerary Overview
Detailed Itinerary
Day 1
Arrive Beijing
Activity: Pick up, airport-hotel transfer
Meals: No Meals
Accommodation: In Beijing

Day 2
Beijing
Activity: Tour to Tian'anmen Square, Forbidden City, Temple of Heaven
Optional: Peking Opera
Meals: Breakfast, Lunch
Accommodation: In Beijing

Day 3
Beijing
Activity: Tour to Mutianyu Great Wall, exterior view of Bird Nest and Water Cube.
Optional: Peking Roasted Duck
Meals: Breakfast, Lunch
Accommodation: In Beijing

Day 4
Beijing

Xian
Activity: Summer Palace, Hutong Tour by rickshaw, flight to Xian
Meals: Breakfast, Lunch
Accommodation: In Xian

Day 5
Xian
Activity: Tour to Qin Terracotta Army, Big Wild Goose Pagoda, Xian City Wall
Optional: Jiaozi Banquet or Tang Dynasty Show with Dinner
Meals: Breakfast, Lunch
Accommodation: In Xian
Day 6
Xian

Lhasa
Activity: Hotel-airport transfer, flight to Lhasa
Meals: Breakfast
Accommodation: In Lhasa

Day 7
Lhasa
Activity: Tour to Potala Palace, Jokhang Monastery, Barkhor Street
Meals: Breakfast, Lunch
Accommodation: In Lhasa
Day 8
Lhasa
Activity: Drepung Monastery, Norbulingka, Sera Monastery
Meals: Breakfast, Lunch
Accommodation: In Lhasa
Day 9
Lhasa

Chongqing, Embark
Activity: Flight to Chongqing for Yangtze Cruise Ship embarking
Meals: Breakfast
Accommodation: On Yangtze cruise boat
Day 10
Yangtze River Cruise
Activity: Yangtze cruise, Fengdu (for optional tour on your own expense) An excursion to Shibaozhai is arranged as shore excursion for you today.
Meals: Breakfast, Lunch, Dinner
Accommodation: On Yangtze cruise boat

Day 11
Yangtze River Cruise
Activity: Optional shore excursion to White Emperor City(on your own expense). Pass Qutang Gorge, Wu Gorge, Goddess Stream as shore excursion.
Meals: Breakfast, Lunch, Dinner
Accommodation: On Yangtze cruise boat
Day 12
Disembark, Yichang

Shanghai
Activity: Tour to Three Gorges Dam, disembark in Yichang, Three Visitors Cave, flight to Shanghai
Meals: Breakfast, Lunch
Accommodation: In Shanghai

Day 13
Shanghai
Activity: Tour to Jade Buddha Temple, Yuyuan Garden, The Oriental Pearl TV Tower, the Bund, Nanjing Road
Optional: Traditional Dim-sum Banquet and acrobatics show
Meals: Breakfast, Lunch
Accommodation: In Shanghai

Day 14
Shanghai

Suzhou
Activity: Train to Suzhou, visit Lingering Garden, Suzhou Museum, Silk Factory
Meals: Breakfast, Lunch
Accommodation: In Suzhou
Day 15
Suzhou

Hangzhou
Activity: Pingjiang Road, Train to Hangzhou, visit Hefang Ancient Street
Meals: Breakfast, Lunch
Accommodation: In Hangzhou

Day 16
Hangzhou
Activity: Tour to West Lake, Lingyin Temple, Six Harmonies Pagod and Tea Museum
Optional: Huaiyang Cuisine
Meals: Breakfast, Lunch
Accommodation: Hangzhou

Day 17
Hangzhou

Guilin
Activity: Flight to Guilin, visit Reed Flute Cave, Elephant Trunk Hill
Optional: The Rice Noodle Banquet
Meals: Breakfast, Lunch
Accommodation: In Guilin
Day 18
Guilin

Yangshuo
Activity: Li River Cruise
Optional: Impression of Liu San Jie
Meals: Breakfast, Lunch
Accommodation: In Yangshuo
Day 19
Yangshuo

Guilin

Hong Kong
Activity: Countryside visit, flight to Hong Kong
Meals: Breakfast, Lunch
Accommodation: In Hong Kong
Day 20
Hong Kong
Activity: Tour to Victoria Peak, Aberdeen and Repulse Bay
Meals: Breakfast
Accommodation: In Hong Kong

Day 21
Departure Hong Kong
Activity: Hotel-airport transfer, departure
Meals: Breakfast
Service Ends
Day 1
Arrive Beijing
Arrive in Beijing, the capital city of China, you will be met at the airport and transferred to your hotel. Free at leisure for the rest of the day.
Meals: No Meals
Accommodation: In Beijing
Beijing, China's capital and one of the great travel destinations of the World, offers sights and cultural relics found no where else on Earth. The city has a character all its own; there are quadrangles, small alleys, tricycle, boiled mutton, roasted duck, arts and crafts, Peking Opera, The Great Wall, the 2008 Olympics venue and a vibrancy that is the distinctive flavor of Beijing.

Day 2
Beijing
Depart from your hotel in the morning to visit Tian'anmen Square, the World's largest urban square and the Forbidden City, the largest and most complete ancient imperial palace in the world. Then visit the Temple of Heaven in the afternoon. Peking Opera is available for your optional night entertainment.
Meals: Breakfast, Lunch
Accommodation: In Beijing
As the biggest city center square in the world, Tian'anmen Square covering 44 hectares in the heart of Beijing. It is the place where history-changing events and ceremonies occurred. A few steps away, come to visit the Forbidden City, which was the Imperial Palace for 24 emperors during the Ming and Qing Dynasties and, it is one of the largest, and certainly the most completely restored, ancient architectural complex in the world. Walk in the footsteps of Emperors; come to the museum and see with your eyes, and feel with your hearts; you'll begin understand what life in this richest of feudal realms was like for the Imperial Rulers, their concubines and their slaves.
After enjoying a delicious lunch, continue on to the Temple of Heaven. Departing from the Imperial vermilion and gold hues of the Forbidden City, The Temple of Heaven is decorated in blue, the color of the Heavens. The perfect harmony between the architectural environment and nature can be felt here; you might easily imagine the vivid spectacle of a great sacrifice to the Heavens for a good harvest. The magnificent Hall of Prayer of Good Harvest is one of the most important and impressive building in China.
In the evening, we offer you an opportunity to enjoy Peking Opera. Expert performers convey powerful emotions to the audience through song, dance, facial make-up, exquisite masks and costume, skilled use of body language and sympathetically integrated musical accompaniment.

Day 3
Beijing
The star attraction of China is its Great Wall, a massive defensive structure built to keep intruders from entering the mainland. Today you will have the opportunity to traverse the ancient steps of Mutianyu Great Wall. After lunch, back to downtown and have an exteriror view of Bird Nest and Water Cube. Peking Roasted Duck is available for your optional dinner.
Meals: Breakfast, Lunch
Accommodation: In Beijing
Mutianyu Great Wall is located in Huairou District, Beijing, 73 kilometers away from Beijing downtown area. It is one of the famous sections of China Great Wall. Mutianyu Great Wall was first built in the mid-6th century during the Northern Qi, making it older than the Badaling section. In 1569, the Mutianyu Great Wall was rebuilt and till today most parts of it are well preserved. The Mutianyu Great Wall has the largest construction scale and best quality among all sections of Great Wall.

The spectacular Bird's Nest stadium in Beijing, hailed as the finest arena in the world and the centre-piece of the most expensive Olympics in history, is full of hidden symbolism.The National Aquatics Centre, also known as 'The Water Cube', is one of the most dramatic and exciting venues to host sporting events for the Beijing Olympics in 2008. The external appearance was inspired by the natural formation of soap bubbles! It utilized state-of-the-art technology and materials to achieve the visually exciting structure, but it's more than just a pretty place.
For today's dinner, how about taste the famous Peking Roasted Duck, as it is the best-known dish in Beijing. It is very tender and unforgettably delicious. You'll visit a local restaurant to enjoy a full meal and learn the proper way to experience Peking Roasted Duck. From the whole roasted duck to the soup of duck bones, you'll enjoy a banquet made from every part of the duck. Moreover, the chef will demonstrate his skill of cutting the skin of the duck for your entertainment.

Day 4
Beijing

Xian
In the morning, take a half-day Hutong Tour by rickshaw to visit the ancient lanes and alleyways of Beijing. Then visit to the royal garden Summer Palace. Be transferred to the airport for the flight to Xian in the afternoon.
Meals: Breakfast, Lunch
Accommodation: In Xian
If exploring the Forbidden City has improved your understanding of the lifestyles of China's ancient Imperial Court, then this half-day Hutong Tour will give you an insight into the lives of ordinary Chinese people and reveal their social culture in today's Beijing City. The narrow streets of old Beijing are known as Hutongs. You'll take a pedicab tour along the Hutongs and see the 100-year-old houses, courtyards and a vanishing way of life in today's Beijing.

The Summer Palace is China existing largest and best preserved imperial garden, also is one of the four famous gardens in China (the other three are Chengde Mountain Resort, Suzhou Humble Administrator's Garden, Suzhou Lingering Garden). It is a large natural landscape garden which used Kunming Lake and Longevity Hill as based address, modeled on the Hangzhou West Lake scenery, drew some design techniques and the mood of the gardens on the yangtze delta. It is also the best preserved royal palace, known as the Royal Garden Museum.

Wonderful time always passes so quickly, in the afternoon, you have to take a flight to Xi'an, the city that steeped in history and still giving up secrets, is your gateway to ancient Chinese civilization. In its 3,100 recorded years of evolution, it has been home to 13 dynasties. Xi'an was also the end of civilization for those setting out on the famous Silk Road. Today's Xi'an is a vibrant, modern city, but surrounded by history, even underfoot! So there can be no underground railways due to the obligation to preserve the wealth of ancient treasure still awaiting discovery.

Day 5
Xian
Today enjoy your full day visit to the Qin Terracotta Army, one of the world's most important archaeological finds, with troops, horses and carriages in battle formation and then to see the Big Wild Goose Pagoda, and the massive Xian City Wall. Either Jiaozi Banquet or Tang Dynasty Show with Dinner is available for your optional meal.
Meals: Breakfast, Lunch
Accommodation: In Xian
As an ancient capital city to 13 dynasties, Xian has a rich recorded history, frequently enhanced by the evidence of new discoveries, like the 1974 unearthing of the fabulous Qin Terracotta Army, the long forgotten army created to guard Emperor Qin Shihuang's tomb. In accordance with ancient beliefs, this grand project was mounted at enormous cost by the cruel and tyrannical Emperor, only to be attacked, plundered, burnt and buried after his funeral by the peasants who'd labored under the whip to build it. Then, over two thousand years later, this "Eighth Wonder of the World" was rediscovered by farmers digging a well. The fine troops, horses and carriages in battle formation are a National ancient art treasure. Three excavation pits are now opened to the public and a fourth is nearing completion. You can, like US President Clinton, now gaze in wonder upon this historic site, listed by UNESCO in 1987 as a world cultural heritage.
Xian was always a walled city, and the Xian City Wall represents one of the oldest and best preserved Chinese city walls, as well being one of the largest ancient military defensive systems in the world. The first city wall of Chang'an was begun in 194 BCE. The existing wall was started during the Ming Dynasty in 1370; it is massive, measuring 13.7 km in circumference, 12 m in height, and 15–18 m in thickness at the base. The South Gate and North Gate are the two main entrances to the inner city. The city itself is neatly arranged along the city wall. This impressive structure is just a precursor to the remarkable discoveries awaiting visitors to Xian.
The Big Wild Goose Pagoda was built in 652 during the Tang Dynasty and originally had five stories, although the structure was rebuilt in 704 during the reign of Empress Wu Zetian and its exterior brick facade renovated during the Ming Dynasty. One of the pagoda's many functions was to hold sutras and figurines of the Buddha that were brought to China from India by the Buddhist translator and travelers Xuanzang. Now this well-preserved holy place for Buddhist has been the symbol of Xi'an.
This evening you could choose Jiaozi Banquet as a local flavor experience. It includes over 10 kinds of Jiaozi, whose shapes and flavours vary, such as rabbit, duck, shrimp, peanuts and so on.
Or if you more interested in dancing show, choose a Tang Dynasty Show with Dinner would be a good idea. You'll enjoy the sumptuous dinner while watching a fabulous dancing and singing performance of the Tang Dynasty. This is not only a performance of Chinese traditional dancing and singing, but a re-enactment of Chinese ancient ceremony and culture.

Day 6
Xian

Lhasa
After breakfast, you will be then transferred to the airport to board a flight to Lhasa, capital of the Tibetan Autonomous Region.
Meals: Breakfast
Accommodation: In Lhasa
Lhasa is the capital of Tibet. Located at the foot of Mt. Gephel, Lhasa's altitude is 3,490 m and the air contains only 68% of oxygen compared to sea level. Traditionally, Lhasa is the seat of the Dalai Lama, and the location of the Potala Palace and Norbulingka Palace. In Tibetan Buddhism the Jokhang Temple in Lhasa is regarded as the holiest centre in Tibet.

Day 7
Lhasa
Taking a visit to Lhasa, a trip to Potala Palace is a must. It's the largest monastery of its type in the world and official home to Dalai Lama. Then move to Jokang Monastery, where monks receive their official training and education. The surrounding Jokhang Monastery of is Barkhor Street. Walk along this street of eight corners which will afford us a window into Tibetan culture and an opportunity to buy colorful ethnic handicrafts rarely seen outside of Tibet.
Meals: Breakfast, Lunch
Accommodation: In Lhasa
The awe-inspiring Potala Palace, perched high above much of Lhasa, is the landmark of the city. The palace which consists of the Red Palace, the White Palace and some attached buildings was a complex of political and religious function. Now it is a huge treasure house for materials and articles of Tibetan history, religion, culture and arts.
The Red Palace contains various chapels and mausoleums for previous Dalai Lamas. The White Palace contains the living quarters of successive Dalai Lamas and their tutors. The offices of the old Tibetan government and their assembly halls are also located here. The Potala is full of elaborate artwork and frescos that tell many stories. They portray religious subjects as well as the customs and traditions of Tibet.
Located at the center of the old Lhasa, Jokhang Temple is the spiritual center of Tibet. Built in 647 by Songtsen Gampo, it has a history of more than 1,300 years. The temple is the fine product of Han, Tibetan and Nepalese architecture techniques. Visitors will be treated to the sight of various exotic and sacred sculptures. Jokhang Temple also houses many invaluable cultural relics. Every year, the Great Prayer Festival is held here.
Then explore Barkhor Street. It is a famous commercial and commodity-distributing center in Lhasa, consisting of more than 120 handicrafts shops and more than 200 stalls. It is a good choice that should never be missed by tourists coming to Lhasa, for you can buy anything Tibet-related, from sacks of incense, chunks of yak butter to monk outfits. Barkhor is the road that pilgrims tramped out around Jokhang Temple through centuries. When walking along Barkhor Street, you should move in the clockwise direction.

Day 8
Lhasa
After breakfast, enjoy your sightseeing tour today that starts with a visit to Drepung Monastery, then continue your tour to Norbulingka and Sera Monastery.
Meals: Breakfast, Lunch
Accommodation: In Lhasa
Located 5 km from Lhasa, the Drepung Monastery is considered one of the three great monasteries in Tibet. It was first built in 1416, and held 7,700 monks in its heyday. In Tibetan language, Drepung Monastery means monastery of collecting rice.

Norbulingka means Jewel Garden. First built in 1751, it borrowed architectural style from the inland areas of China while maintaining local ethnic and religious features. Norbulingka served as a traditional summer palace and residence starting with the 7th Dalai Lama, and now it is the largest garden in Tibet.
The Sera Monastery is the last of the three principal Yellow Sect monasteries built in Lhasa. The setting itself is very beautiful with cobbled alleyways, temples and colleges. The highlight of visiting Sera Monastery will be watching monks debating inside the shady courtyard behind the main temple. Every day, hundreds of red-robed monks assemble in small groups and practice their debating skills.

Day 9
Lhasa

Chongqing, Embark
Enjoy your free time in the morning then you will be transferred to the airport for your afternoon flight to Chongqing, the so called 'Mountain City' and the start point of the Yangtze River Cruise.
Meals: Breakfast
Accommodation: On Yangtze cruise boat
Chongqing, the largest inland city of China, is a booming metropolis located in the southeast of the Sichuan Basin at the confluence of the Yangtze and the Jialing rivers. Surrounded by waters on three sides, and by the mountains on four sides, Chongqing is known as 'mountain city', 'foggy city' and 'furnace city'.
Over 6,300 kilometers long, the Yangtze is the largest and longest river in China, surpassed only by the Nile of Africa and the Amazon of South America. Born of the melting snows and ice in the Tanggula Mountain chain in the Qinghai-Tibetan Plateau, the torrent flows from west to east through provinces of Qinghai, Tibet, Sichuan, Yunnan, Sichuan, Hubei, Hunan, Jiangxi, Anhui and Jiangsu and the city of Shanghai, finally emptying into the East China Sea. Between the town of Fengjie (Sichuan Province) and Yichang (Hubei Province) are the magnificent Three Gorges.

Day 10
Yangtze River Cruise
Enjoy your Yangtze cruise! There will be an optional shore excursion to Fengdu(on your own expense), the "Ghost City". An excursion to Shibaozhai will be arranged as your shore excursion for you today.
Meals: Breakfast, Lunch, Dinner
Accommodation: On Yangtze cruise boat
Note: The free shore excursion spots might be changed by cruise company without notice in advance in different season.
Today you will stop for a visit to Fengdu, is located on the northern bank of the Yangtze 176km downstream from Chongqing. Fengdu received its reputation in the Eastern Han Dynasty. A plethora of demon-decorated temples, buildings and statues in this river town earned it the moniker "Ghost City" - the carved facades are truly fascinating. The temples built on Mt. Mishan display punishing instruments and wild demon images, which vividly depict the Chinese people's imagination of Hell. Another classic site – Shibaozhai may for your optional visiting.

Day 11
Yangtze River Cruise
In the morning, there will be an optional shore excursion to White Emperor City(on your own expense). Then the cruise boat will pass through Three Gorges that namely Qutang Gorge, Wu Gorge, and then, you will have a excursion to Goddess Stream. .
Meals: Breakfast, Lunch, Dinner
Accommodation: On Yangtze cruise boat
This morning, rise early to see the dawn light the Yangtze River before the boat enters the first gorge- Qutang Gorge, the shortest (8 km), narrowest and the most dramatic one of the three gorges. Two mountains, Chijia (Red Passage) and Baiyan (White Salt), guard the entrance to this gorge like giant castle doors.

A few hours later you see the second gorge -Wu Gorge, the middle gorge which is best known for its quiet beauty, sheer cliffs and twelve unique peaks. Often veiled in swirls of mist, six line the north side of the river and six staggered peaks stand to the south. The most famous, Goddess Peak, resembles a kneeling maiden.
Goddess Stream (Shennv Stream), the locals called "Beauty Stream", 15 kilometers long, because the water is rushing, shallow and narrow, including 10 km untraversed primitive valley. After the third phase of water storage, now we can explore the secret deep stream canyon, beautiful scenery and native residents "surprise" visitors. This mountain beautiful scene used to be known by only a minority of former photographer, now it becomes a new highlight of Yangtze River Cruise.

With an area of 160 hectares of forest, it lies on the lower reaches of Daning. Here sheer cliffs and steep mountains rise on either side, creating one of natural fine arts gallery as natural scenic wonders unfold on both banks of the river.

Day 12
Disembark, Yichang

Shanghai
Then it is time to pass through the locks of Three Gorges Dam, the climax despite of the nature sightseeing. You could really feel the might of the dam. After the visiting, disembark at Yichang and be transferred to visit Three Visitors Cave after lunch, then go to the airport for your flight to Shanghai. Arrive in Shanghai and be transferred to the hotel to catch up on some rest.
Meals: Breakfast, Lunch
Accommodation: In Shanghai
Today you will take a visit to the great Three Gorges Dam. It is 2,335-meter long, 185-meter high, 18-meter wide on the top and 130-meter wide at the bottom. The dam will raise the river to a level of 175 meters above sea level, creating a 600km long reservoir with storage capacity of 39.9 billion cubic meters extending from the dam site all the way to Chongqing. It is the largest water conservancy project ever undertaken.

Three Visitors Cave (Sanyoudong) is located in the cliff of the Mt. Xiling by the Yangtze River, 7km away from the center of Yichang city. It is backed by the mouth of Xiling Gorge in the Yangtze Three Gorges. Facing the Xialao River, the Cave has wonderful and beautiful scenery. It is one of the famous historical sites in Hubei province and on May 25, 2006, Yichang's Three Visitors Cave was listed into the sixth batch of national key cultural relic protection units for its precious cultural treasures.

Then, return to your boat and have a nice lunch, it is really the time for you to say goodbye to the crews. You will take a flight from Yichang airport to Shanghai. For Shanghai, you have a lot to expect.
Shanghai is a city unlike any other in China. It is the bustling economic heartbeat of China that enjoys all of the comforts and amenities of a fully modern metropolis. Shanghai today looks to regain its former position at the turn of 20th of being one of the largest financial centers in the world behind New York and London. It is a city that seamlessly blends East and West.

Day 13
Shanghai
Today, enjoy your full day city tour that start with the visit to the Jade Buddha Temple, then move to Yuyuan Garden, a Chinese classic garden in city downtown, and the nearby old street. Next have an exterior of Oriental Pearl TV Tower, which is the third tallest TV and radio tower in the World. The highlight of the day is perhaps the stroll along Shanghai's famed waterfront promenade, the Bund, to admire the illuminated buildings lining the Huangpu River. Then you could take a shopping around Nanjing Road. Acrobatics Show is available tonight for your optional activity.
Meals: Breakfast, Lunch
Accommodation: In Shanghai
Jade Buddha Temple is located in a crowd of Shanghai City. It was first built in 1882 in Jiangwan on the southern outskirts of Shanghai. At that time, a 1.9-metre-high white jade Buddha was installed here after a monk had brought it from Burma to Zhejiang Province in 1882. Jade Buddha Temple is one of the Shanghai must-see attractions, and till now, it still be an active one that with 70 resident monks at last count. In order to make it convenient for the adherents to visit, it was bodily moved to Shanghai City at the present sire in 1918.

Completed in 1995 to a highly innovative design, Shanghai Oriental Pearl TV Tower has become a symbol of excellence in architecture and is a favourite sight for tourists in Shanghai. At 468 meters, it is the third tallest TV and radio tower in the World.
The tower is composed of the tower base with three batter posts, and three standing pillars, within which are elevators, holding 11 steel-structures creates the poetic conception as described in the old line "large and small pearls dropping onto a jade plate".

Then it comes to the Bund, the showcase with the old buildings of colonial-era leftover along Huangpu River. The renowned waterfront district is the city's most famous landmark. The word BUND is of Anglo-India origin meaning embankment on the waterfront. It is also the popular site to enjoy the night view of the city.
Shanghai offers colorful recreations with rich contents and creative form. Your night may be filled with an interactive old form of art known as the Acrobatics. Those professional performers have been trained of as early as age six or seven so that they can play so well and excellent. It definitely will be an unforgettable night in your memory.

Day 14
Shanghai

Suzhou
Get up early this morning, you will then be transferred to the train station for your express train to Suzhou (0.5 hour driving). Your sightseeing tour of ancient Suzhou starts with the visit to Lingering Garden, which is one of the great four gardens in China. And then, take a short visit to Suzhou Museum, the masterpiece of I.M. Pei. Afterwards, continue to Silk Factory to find out how silk is being made.
Meals: Breakfast, Lunch
Accommodation: In Suzhou
Lingering Garden is one of the great four gardens in China. It was first built in Wanli reign of Ming Dynasty in 1593 as Xu Taishi's private garden. The garden was originally called East Garden, and the middle pond and overlapped yellow stone rockeries on the west of the pond are built at that time. After Xu's death, Liu Su became the owner of the garden. By rebuilding it, Liu plated many bamboos and had many stones inscribed out of his hobby. The fourth owner is Sheng Xuanhuai, who named the Garden "Lingering'". The word has the same pronunciation with 'Liu' in Chinese, the surname of its former owner.

Silk has a history of some 4,500 years in China, so they have become adept at producing many different types of silk, as well as dyeing it and weaving different patterns into the fabric. Suzhou is famous for its silk production. In the Silk Factory you can see a display of the life-cycle of the silk worm and demonstrations of how the silk is harvested from the cocoons and eventually woven into fabric. It is quite astonishing to learn that one cocoon can produce about 2 km of silk strand, and that several of these strands are twined together to make a single thread. The process is so slow and painstaking; it comes as no surprise that genuine hand-made silk articles are so expensive.

Day 15
Suzhou

Hangzhou
In the morning, you can spend some time to explore the old city. The Pingjiang Ancient Street is a good choice. In the early afternoon, transfer to the train station for your 2 hours train riding to Hangzhou, to explore the beauty there. On arrival, you can have a short stroll along the Hefang Ancient Street to take your first impression of this city. The street, which is much different with the old street in Suzhou, as it is a cobble street lined with traditional shops selling herbal medicines, handicrafts and silk products.
Meals: Breakfast, Lunch
Accommodation: In Hangzhou
Traditional local dwellings, bridges and shriving plants, made Pingjiang Road one of the historical streets in China. Everything here seems to be frozen in time. Leave out all the rest, just slow down your pace here, you will find your own slow life.
Hangzhou, the capital of Zhejiang Province, is located by the Qiantang River at the Southern end of the Grand Canal. As one of the most renowned and prosperous cities of China for much of the last 1,000 years, Hangzhou is also well-known for its beautiful natural scenery, with the West Lake as the most well-known location. The Venetian Marco Polo supposedly visited Hangzhou in the late 13th century. His book refers to the city as "beyond dispute the finest and the noblest in the world."
Hefang Street is a well-designed old pedestrian street, which is the epitome of old Hangzhou. The original street has been ruined and it recently takes on a completely new look after lager-scale of restoration. Shops selling art crafts, souvenirs, silk, teahouses, and restaurants line on both sides of the street. Many famous century-old shops can be found along the street, such as Hu Qing Yu Pharmacy and Wang Xing Ji Fans. Hefang Street is otherwise known as the Snack Street for the diverse food it serves. The street clearly concentrates food from all around the country, while at some time highlighting the local flavors.

Day 16
Hangzhou
Enjoy your full day relaxing tour that covers the visit to West Lake, Lingyin Temple, Six Harmonies Pagod and Tea Museum. Huaiyang Cuisine is available for your optional dinner (at your own expense).
Meals: Breakfast, Lunch
Accommodation: Hangzhou
"Rippling waters shimmering on a sunny day,
Misty mountains shrouded by the rain;
Plain or gaily decked out like Xizi;
West Lake is always alluring."


These sentiments by the famous poet Su Dongpo, comparing West Lake with Xizi, the most renowned beauty of the Song Dynasty, leave one in no doubt of the splendor of the scenery that inspired them. Enclosed by the hills on three sides, the West Lake mirrors the surrounding landscape to form a panorama of great beauty. The lake was originally part of the Qitang River until its outlet became silted up. It is now 15km in circumference with an average depth of 1.8 meters.

The Lingyin Temple is regarded as one of the four temples by the side of the West Lake. The main hall, 33.6 meters high, is one of China's tallest single-story buildings, further distinguished by double eaves. Within, a statue of Sakyamuni, carved out of 24 pieces of camphor wood and gilded with 104 ounces of gold, stands an impressive 19.6 meters high.
Standing by the Qiantang River in Hangzhou, the Pagoda of Six Harmonies (Liuhe Tower) has for hundreds of years been praised by poets and men of letters. The pagoda was constructed first in 970 during the Northern Song Dynasty to suppress the tidewaters. It is nearly 60 meters tall with 13 stories outside and seven inside. From here you can have a good view of the Qiantang River meandering far into the distance.
While you are enjoying the beautiful sightseeing of Hangzhou, you can also try the well-known Huaiyang Cuisine which is the style prevailing in Shanghai, Hangzhou, Ningbo and Suzhou. The basin of the lower reaches of the Yangtze and the coast are blessed with the products of rivers, lakes and the sea; everything for seekers of fine food. Huaiyang dishes are characterized by the addition of a relatively high proportion of soy sauce.

Day 17
Hangzhou

Guilin
Take a morning flight to Guilin. On arrival, your local guide will meet you at the airport then transfer you to the hotel. On the way, you will have chance to visit the wonder Reed Flute Cave and Elephant Trunk Hill, the symbol of Guilin City. The Rice Noodle Banquet will be a good choice as an optional dinner if you wanna have a try.
Meals: Breakfast, Lunch
Accommodation: In Guilin
Reed Flute Cave is named for the special reeds, used for making flute instruments, that grow near the cave entrance. The caves are a feast for the eyes. The natural beauty of a profusion of stalactites and stalagmites, stele, stone pillars, stone curtains and stone flowers creating an infinite variety of extraordinary scenes, creatively illuminated, is bound to evoke gasps of admiration. It is fitting then, that Reed Flute Cave is commonly praised as Nature's Grand Art Palace.
Elephant Trunk Hill, or Xiangbishan, is the symbol of Guilin. Observed from a distance, you'll see an elephant-like form standing majestically at the confluence of the Li and Yang Rivers, with its trunk arching into the clear waters, a fantasy elephant eternally quenching a gargantuan thirst; lifelike in shape and energetic in posture.
Guilin Rice Noodle is the most popular snack in Guilin. If you want to know Guilin's culture deeply, it's a recommended choice for you to taste the Banquet of Rice Noodle as your optional dinner. The thing that sets one dish apart from another is the soup, which is made of pork, steak, Lo Han Kuo, and other seasonings. Depending on different kinds of ingredients used in the soup, rice noodles can be divided into vegetable, three-fresh, original soup, spicy and sour, beef, and horse meat ones.

Day 18
Guilin

Yangshuo
The highlight of today's sightseeing is a leisurely cruise down the Li River to Yangshuo. Meandering through valleys, bamboo groves and mysterious Karst rock formations, the cruise will affords you a glimpse of a life far removed from the concrete jungle. Stay overnight in Yangshuo. In the evening, if you are interested, you can enjoy the night show called Impression of Liu San Jie as an optional activity.
Meals: Breakfast, Lunch
Accommodation: In Yangshuo
In the morning, be driven to Pier for your Li River Cruise. A double-decker river boat is waiting for you. The landscape from Guilin to Yangshuo is truly a masterpiece of nature. The crystal waters, straight-out-of-a-painting mountains, peaceful farm fields, hard-working-but- ever-smiling fishermen and wandering water buffaloes inspire poetic musings of Guilin's charming life. Under the blue sky, your river boat transports you in an unending daydream.
After cruising for about four and a half hours, the one-thousand-year-old Yangshuo Town comes into sight. Yangshuo is a small oriental but Western-influenced town with a history of 1000 years. The West Street in the town earns its name since almost every one in West Street can speak fluent English and every restaurant or bar offers menus in several languages. You'll feel no borders or distance here and will soon fall under the spell of this charismatic, welcoming small-town atmosphere. Moreover, West Street is flanked by fascinating little shops and vendor stands selling a broad variety of superior quality souvenirs, perfect gifts for friends and relatives.
Some guests may also hear about the night show- Impressions of Liu Sanjie performance. The site is only one mile from West Street in the world's largest natural theatre which utilizes the waters of the Li River as its stage, flanked by twelve mist shrouded hills and the heavens as its backdrop. Mist, rain, moonlight, the hills and their inverted reflections in the river all become the ever-changing natural background, so you will enjoy a unique experience each time you attend.

Day 19
Yangshuo

Guilin

Hong Kong
Enjoy your relaxing tour in this peaceful place. You will have a bus driving around to enjoy the countryside view (if you are interested, you can even choose take a cycling around the countryside and visit Moon Hill and the Big Banyan Tree, etc). After lunch, be transferred to the airport for your afternoon flight to Hong Kong.
Meals: Breakfast, Lunch
Accommodation: In HK
From Yangshuo, take a short, pleasant drive to the Moon Hill, a great limestone peak with a naturally created moon-shaped cavern passing through just below its summit. If you are interested, you can make a steep climb to the upper section of Moon Hill. The landscape is stunning viewed from Moon Hill; the skyline is lined with peaks of almost equal height – resembling a jumble of giant rock traffic-cones pointing skywards.
The Big Banyan Tree is located on the west bank of Jinbao River approximately 7.5km south of Yangshuo. It is said to have a history of nearly 1,400 years and has survived centuries of wind and rain. The Big Banyan Tree is now 17 meters high, 7.1 meters around the main trunk, and spans an area of 1000 square meters. As a major tourist attraction, the enormous Banyan is famous for its age and towering beauty. It is also noted because the Chinese film 'The legend of Liu Sanjie' was partly shot here. The beautiful love story adds to the magic of this centuries-old tree.
Hong Kong is a bustling and vibrant destination boasting a rich blend of Chinese and European traditions. Visitors to this "Pearl of the Orient" will experience breathtaking views from Victoria Peak, the uniqueness of Aberdeen's Floating Community, and the offerings at Stanley Market. It would be hard to find a more exiting city than Hong Kong. Set among beautiful natural surroundings it has all the benefits of a thriving and vibrant commercial center home to shopping like no place

Day 20
Hong Kong
Today, enjoy your half day city tour to Victoria Peak, Aberdeen and Repulse Bay. In the afternoon, you can enjoy your own exploration in this city.
Meals: Breakfast
Accommodation: In HK
Victoria Peak is Hong Kong's premier visitor attraction, providing magnificent harbor and city views. You will experience the dazzling panorama of Hong Kong Island, the Victoria Harbor, the Kowloon Peninsula and hills beyond. By night, you are thrilled to the neon-light skyline. What's more, the Peak offers visitors a multitude of fantastic entertainment, dining and shopping options.
Aberdeen is also located on the southern side of Hong Kong Island. It is home to hundreds of people living on fishing junks. The traditional lifestyle is dramatically juxtaposed against a modern high-rise community that spreads up the nearby hillsides. To get a close-up look at the Aberdeen way of life, many visitors take a sampan ride. In the evenings, any others prefer to take in the view from the floating seafood restaurant anchored there.
The wide and wave-lapped beach - Repulse Bay is popular with locals and visitors alike and great for sandy strolls early morning or at sunset when all is at peace. As well as sun, sea and sand, there are plenty of diversions nearby. The former colonial style Repulse Bay Hotel and the ornate Life Guard Club built in traditional Chinese style is all there for you to explore.

Day 21
Departure Hong Kong
The vacation is over all too soon as you're transferred to the airport to board the homebound flight, bidding a fond farewell to China, and we know you'll be back.
Meals: Breakfast
Service Ends
Full price of this tour (per person in US$):
JAN, FEB, DEC
MAR, JUN, JUL, AUG
APR, MAY, SEP, OCT, NOV
Group Size
Using Standard Hotel
★★★
Using First Class Hotel
★★★★
Using Deluxe Hotel
★★★★★
Double
Occupancy
Sole
Occupancy
Double
Occupancy
Sole
Occupancy
Double
Occupancy
Sole
Occupancy
1 person
7076
7571
8941
2-5 persons
4684
5866
4936
6362
5634
7731
6-9 persons
3985
5133
4237
5628
4935
6998
10 persons & above
3488
4516
3758
5048
4383
6272
Group Size
Using Standard Hotel
★★★
Using First Class Hotel
★★★★
Using Deluxe Hotel
★★★★★
Double
Occupancy
Sole
Occupancy
Double
Occupancy
Sole
Occupancy
Double
Occupancy
Sole
Occupancy
1 person
7434
8058
9686
2-5 persons
4963
6224
5281
6848
6110
8476
6-9 persons
4264
5491
4582
6115
5411
7743
10 persons & above
3685
4805
4027
5479
4722
6848
Group Size
Using Standard Hotel
★★★
Using First Class Hotel
★★★★
Using Deluxe Hotel
★★★★★
Double
Occupancy
Sole
Occupancy
Double
Occupancy
Sole
Occupancy
Double
Occupancy
Sole
Occupancy
1 person
7586
8468
10226
2-5 persons
5087
6376
5540
7259
6428
9016
6-9 persons
4388
5643
4841
6525
5729
8283
10 persons & above
3810
4961
4290
5897
5050
7397
Remarks:

1. Prices are valid from Mar 1, 2016 to Feb 28, 2017, except Chinese public holidays, local fairs or events
2. TopGuilinTravel reserves the rights to adjust the price caused by exchange rate
3. No guide service from TopGuilinTravel on the flight and Yangtze River cruise
4. Recommended hotels are subject to be changed in actual booking
5. Any special requirements should be advised to us in advance
6. TopGuilinTravel reserves the rights of final explanation for any changes due to the reasons beyond our control

Price includes:

1. Private transfers between hotel, airport (railway station) and attractions
2. Domestic airfare or train fare based on economy class
3. English speaking guide service
4. Hotel accommodation with daily breakfast
5. Admission for the attractions listed in the itinerary
6. Meals specified in the itinerary
7. Tibet permit
8. China Life Tourist Accident/Casualty Insurance, Insurance Terms & Conditions

Price excludes:

1. International transportation
2. Visa fee
3. Tips for guides, escort, drives, bellman, etc
4. Personal expenses
5. Optional meals or activities mentioned in the itinerary
6. Services not mentioned
China Tours
Guilin Tours
Guilin Travel Advisor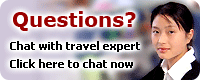 Skype: topchinatravel
Tel: 86-773-2828314
Ask a Question