China Minority Discovery Tours
China is home to the 56 ethnic groups. China Minority Discovery offers you well-arranged tour packages to discover the unique culture and custom of the ethnic groups, to experience their old traditions and folk arts. Tour to Guizhou, Yunnan and Xinjiang and meet these ingenuous folks, you will find out their own way of living.
Beijing-Guiyang-Kaili-Rongjiang-Zhaoxing-Sanjiang-Longsheng-Guilin-Shanghai
Summary:What happens when mix natural scenery, colorful minority celebration and tradition, genuinely friendly and hospitable people with luxury and genuine service? This 14 days China Ethnic Tour to Guizhou Province and Guilin will be the journey that you are always eager to participate in and will never forget! We will show you a picture of southwest China folk custom from Guizhou to Guangxi after experiencing the culture heritages center of China - Beijing. This unique journey will appeal to traditional custom lover, adventure travelers and China neophytes alike.
14 Days Experience China Ethnic Culture


Beijing-Guiyang-Kaili-Rongjiang-Zhaoxing-Sanjiang-Longsheng-Guilin-Shanghai
Attraction: Forbidden City, Langde Miao Village, Basha Miao Village, Chengyang Wind and Rain Bridge, Longji Rice Terrace, Li River
Tour Code: TGT-CH-Minority-01
Tour Type: Private Tour
Price from: US$ 2134
China Tours
Guilin Tours
Guilin Travel Advisor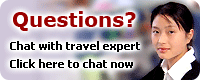 Skype: topchinatravel
Tel: 86-773-2828314
Ask a Question