Scenic China Tours
Scenic China Tours collects the most ideal sightseeing tour packages for nature-lovers. These tours spotlight the grand mountains, running rivers and gorgeous valleys of the big country, such as the elegant Mt. Huangshan in Anhui Province, the mighty Yangtze River, the peaceful Li River in Guilin and the colorful Jiuzhaigou Valley near Chengdu…try to arrange you a dreamy China Scenery Tour to discover the most elegant scenery and landscapes of China.
Beijing-Xian-Jiuzhaigou Valley-Chengdu-Guilin-Longsheng-Shanghai
Summary:Wanna escape from the over-noising city? Why not enjoy a tour to the living paradise Jiuzhaigou Valley and picturesque Guilin? Spend 15 Days to wander in the wonderland - green hills, clear waters and vivid plants, blue skies…Just imagine all the best things are waiting for you. Come with us, to be the Alice in Wonderland, to appreciate all the breathtaking sceneries there.
15 Days Wandering in the Wonderland


Beijing-Xian-Jiuzhaigou Valley-Chengdu-Guilin-Longsheng-Shanghai
Attraction: Badaling Great Wall, Terracotta Warriors, Jiuzhaigou Valley, Giant Panda Breeding Base, Li River, The Bund
Tour Code: TGT-CH-Scenic-02
Tour Type: Private Tour
Price from: US$ 2876
China Tours
Guilin Tours
Guilin Travel Advisor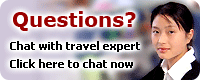 Skype: topchinatravel
Tel: 86-773-2828314
Ask a Question